Technology
LG Display leads the market with product optimized to various user environments.
AIT
(advanced In-cell Touch)
Thinner! Slimmer! Faster!
The most outstanding total touch solution
AIT technology ensures better touch performance by embedding the touch
sensor inside of the LCD cell. The reduced thickness of the panel and the
reduced width of the bezel save more space, thereby realizing a slimmer and
more innovative design.

LG Display plans to apply AIT technology to mobile devices and notebook PCs
as well as monitor displays.
Ultra Slim

Narrow Bezel

Good Outdoor Visibility

Durability
Advanced Touch Performance
AIT provides better touch performance thanks to LG Display's inovative
technology. The thinner panel ensures outstanding response rate when
the screen is touched by fingers.
Narrow Bezel & Slim design
With the touch sensor embedded inside of the LCD cell, AIT makes a thinner and slimmer design possible compared to the existing add-on technology which requires
the attachment of an additional touch sensor on top of the cell.

A slim bezel design is possible because AIT does not require space for touch wires that send touch signals.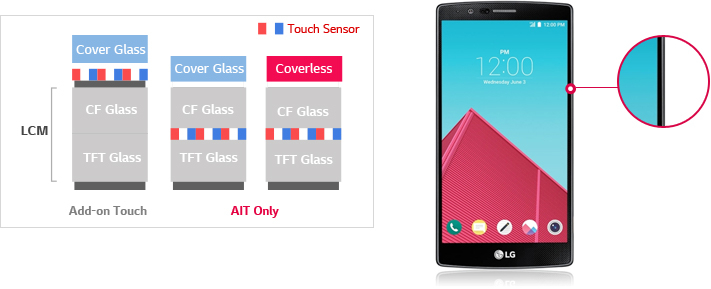 Great Outdoor Visibility
AIT technology provides clearer images on the screen with the touch layer
being embedded inside of the panel which is not visible even outdoors. Since
the touch layer is completely embedded, there is no deterioration in outdoor
visibility that occurs from sunlight reflection.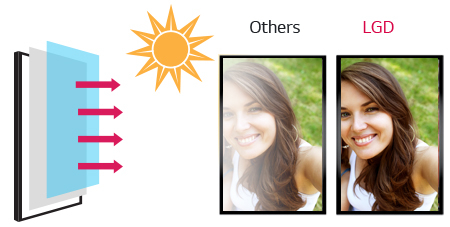 Improved Durability
Since the touch sensor is embedded under the C/F Glass, users will not
experience inconvenience. The touch sensor works without any problem
even when the glass is damaged.